Can Medicine Be Cured? The Corruption of a Profession by Seamus O'Mahony, first published in the UK in 2019 by Head of Zeus Ltd.
Available to purchase on Amazon here.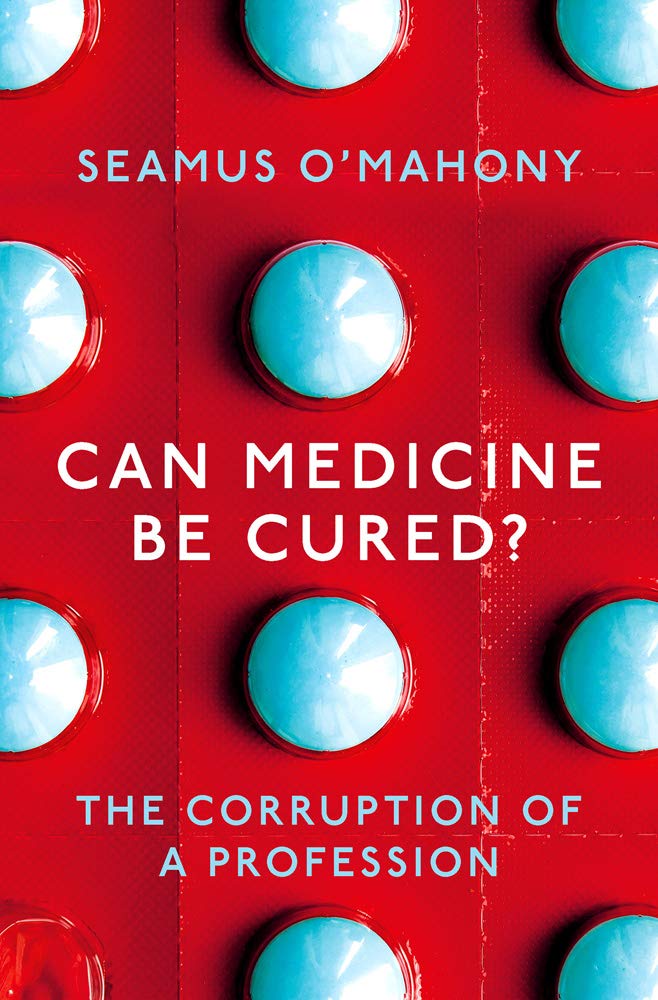 A fierce, honest, elegant and often hilarious debunking of the great fallacies that drive modern medicine. Seamus O'Mahony writes about the illusion of never-ending progress, the hubris of the notion that all diseases can be 'conquered'. He excoriates the claims of Big Science, the spending of vast sums on research, most of which is useless. And he highlights the over-reliance on metrics, and a neglect of things – such as compassion – that can't be measured. This passionate polemic argues that doctors and patients have become enslaved by the consumerism of the medical-industrial complex, and that medicine should revert to its core mission: the relief of suffering.
Praise for Can Medicine Be Cured?
"The most devastating critique of medicine since Medical Nemesis by Ivan Illich . . . The book is as readable as O'Mahony's last book 'The Way We Die Now', and provides a strange cocktail of pleasure and despair." (Richard Smith, British Medical Journal)
"What makes this book a delightful, if unsettling read, is not just O'Mahony's scholarly and witty prose, but also his brutal honesty . . . here is a wise consultant at the end of his career telling us what he wished he had known at the beginning." (Phil Hammond, The Times)
"this is a book shored up by deep medical, historical and sociological research, which it wears so lightly that it is, as well as deeply provoking, even game-changing, a compulsive read." (Emily Hourican, Sunday Independent)
"[A] deeply fascinating and rousing book." (Roger Lewis, The Mail on Sunday)
"[A] startling and revelatory overview of 21st-century healthcare . . . an exceptionally strong polemic." (Andrew Lynch, Sunday Business Post)
"Just like medical students bough 'Medical Nemesis' in droves in the 1970s, they should do the same with this book. They will gain new knowledge and insights, as well as being amused." (Patricia Casey, The Irish Independent)
"This humane, knowledgeable and scathing book" (Thelma Lovell, Catholic Herald)
"this fiercely polemical book . . . O'Mahony combines being a physician with an ability to write good prose that outstrips many professional writers" (Paul O'Mahoney, Dublin Review of Books)
"A good book challenges the reader, this book certainly challenged me, but I feel better for engaging with this plausible and readable criticism of contemporary medicine. I have not felt that a book was written just for me, to make me engage with the difficult but compelling issues affecting my profession since I read Raymond Tallis' Hippocratic Oaths: Medicine and It's Discontents more than 10 years ago." (Jane Rosamund Moore, British Journal of General Practice)
"a book on health that everyone should read . . .The doctor's diagnosis is as devastating as it's true. If there is a cure for the travails of our health service, it must begin with these odorous and painful truths, unearthed and so skilfully dissected out in very readable prose by Professor O'Mahony." (Patricia Casey, Sunday Independent)
"A witty polemic against the ills of modern medicine." (James Marriott, The Times)
"This wonderful book . . . reads as easily as an after-dinner anecdote but resonates as powerfully as a legal prosecution." (Jeanette Ward, Medicus)
"[A] book that should be on the reading list of any incoming minister is the superb Can Medicine Be Cured? By Dr Seamus O'Mahony" (David Quinn, The Sunday Times)
"Relentlessly irreverent, fearlessly brazen and all-revealing." (John H. Noble, Indian Journal of Medical Ethics)
"O'Mahony writes crisply with flashes of scalpel-like sharpness." (Muiris Houston, Irish Times)
"O'Mahony's book is not so much a take-down as a searing reappraisal of some of the fundamental directions taken by clinical medicine and research over the past few decades. It is well worth reading." (Brendan Kelly, Medical Independent)
"a must read for anyone who thinks they might avail themselves of medical services in this lifetime or anyone who works in healthcare, let alone would-be reformers." (Rogier van Vlissingen, Seeking Alpha)
"The frustrated older practitioner cheers on this author as he writes his mind." (Saxby Pridmore, Australasian Psychiatry)
"a stirring critique of modern medicine and its societal perversion." (James F. Cawley, The Journal of Physician Assistant Education)
"He has certainly performed a most useful service in calling this particular spade by its proper name." (James Le Fanu, Literary Review)