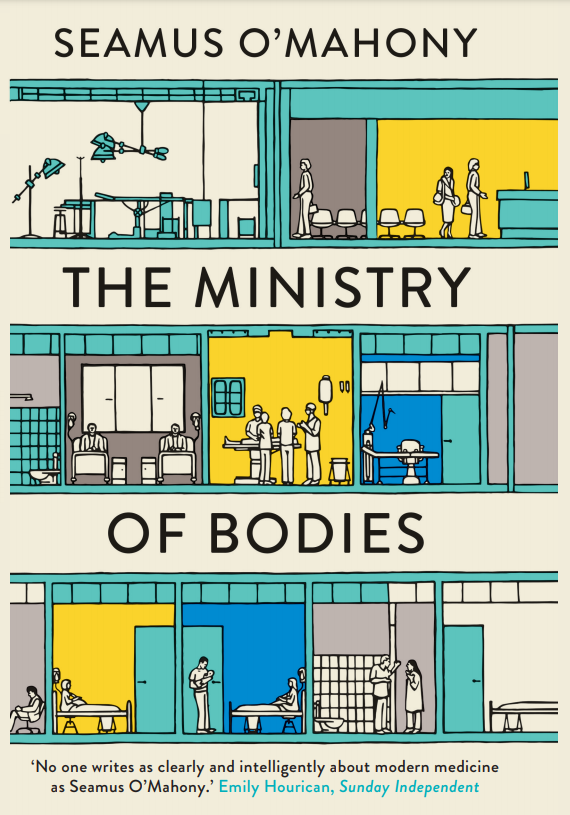 Seamus O'Mahony kept a diary during his last year as a doctor; he describes the absurdities of hospital life and reflects on his long career. The Ministry of Bodies – the final part of his trilogy on modern medicine – is the result: honest, sad, funny, digressive, surprising. The award-winning author of The Way We Die Now and Can Medicine Be Cured? has written his most personal and revealing book, a meditation on life, death, and "Andrea Pirlo's rich chestnut hair".
Available now on Amazon here. Can also be purchased at Easons, Dubray and all other major Irish bookstores.
Praise for The Ministry of Bodies
"Blunt, witty, erudite, curmudgeonly . . . A brew of madness and sadness worthy of Flann O'Brien." (Melanie Reid, The Times)
"Disturbing, funny, enjoyable, and beautifully written". (Richard Smith, British Medical Journal)
"More pages than not caused me to laugh out loud." (Danielle Barron, Irish Independent)
"The terse style . . . underlines his winning contrariness, while his scrupulous simplicity shows a determination (unlike most medical memoirs) to avoid manipulative artifice." (Brendan Daly, Sunday Business Post)
"It's his honesty which makes The Ministry of Bodies all the more interesting, as it dispels the myth that all doctors are saviours or saints." (Maureen Coleman, the Irish News)
"A thumping good read . . . he tells it like it is." (Chris Dunne, the Echo)
"This book is driven by a profound commitment to medicine, a passion for communication and a sense of vocation that is as valuable as it is rare. The book is also very, very funny. More please." (Prof. Brendan Kelly, the Medical Independent)
"There's plenty of interesting strangeness in The Ministry of Bodies". (Martin Chilton, Books of the Month, the Independent).
"Funny, sad, infuriating, heartening and depressing, all in almost equal measure . . . many parts of The Ministry of Bodies had me laughing out loud". (Emily Hourican, the Sunday Independent).
"This unusual memoir – both blunt and philosophical – contemplates topics deeply relevant to all physicians." (Tony Miksanek, Literature, Arts & Medicine Database New York University)
"The book is both hilarious and depressing, and should be read by anyone with an interest in what happens in hospitals and what doctors do. That probably means it should be read by everyone." (Sebastian Rushworth, sebastianrushworth.com)
"I greatly admired his prose style and narrative skills." (David Oliver, British Medical Journal).
"Wonderfully funny and curmudgeonly . . . as brilliant and candid as Solzhenitsyn's Cancer Ward." (Kevin Toolis, author of "My Father's Wake").