First published in the UK in 2016 by Head of Zeus Ltd.
Published in the US in 2017 by Thomas Dunne Books.
Available to purchase on Amazon here.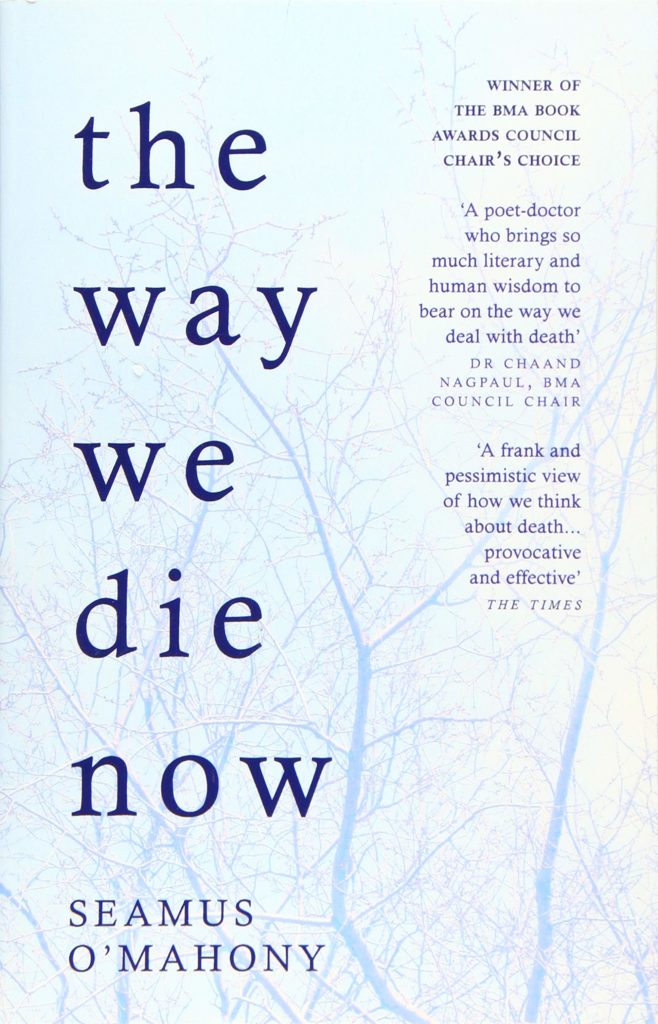 We have lost the ability to deal with death. Most of the dying spend their last days in general hospitals and nursing homes, in the care of strangers. Many do not even know they are dying; there is often excessive treatment at the end of life. This is the starting point of Seamus O'Mahony's book on the western way of death. Death has become medicalised, but doctors cannot prescribe a "good death". Our ancestors "tamed" death by communality and ritual, but in our atomised, secular societies, death has become the new taboo. Now we are trying to tame death again with laws and regulations: human agency has replaced the power of nature. But death cannot be sanitised or workshopped. The Way We Die Now asks how we have arrived at this age of spiritual poverty and argues that giving up our fantasies of control can restore to death its value and grandeur.
The Way We Die Now won the prestigious Council Chair's Choice Award at the British Medical Association's Annual Book Awards in 2017. Dr Chaand Nagpaul, Chair of the BMA Council described the book as a "thought-provoking read, written in a captivating style, and unlike other books on the subject, directly challenges societal and medical thinking about death." In recognition of this book, Seamus was named Cork Person of the Month in November 2016, and was give a special award by the University College Cork Medical School in May 2018.
Praise for The Way We Die Now
"A searingly honest and humane book that is challenging yet profoundly important." (PD Smith, the Guardian)
"Trenchant but compassionate" (Jane Shilling, Daily Mail)
"this wonderful, humane book . . ." (Gabriel Weston, the Telegraph)
"the first and most important thing to say about this book is that it's a joy to read. . . I hope that when I die I have a doctor like O'Mahony to look after me, a doctor who is deeply conscious of the many failings of medicine and his own fragility." (Richard Smith, BMJ Blogs: Medical Humanities)
"occasionally grumpy, sometimes bleakly humorous and always tough-provoking" (Breda O'Brien, Irish Times)
"a compelling treatise on the current culture of death in the western world" (Sara Keating, Sunday Business Post)
"this brave, timely and uncompromising book" (Brendan Daly, Irish Examiner)
"bracing and unsentimental" (Nicci Gerrard, the Guardian)
"this compelling, thought-provoking book" (Julian Hughes, the Tablet)
"provocative and effective" (Fiona Wilson, The Times)
"He makes a powerful plea to bring common sense, medical wisdom and compassion into end of life care" (Francis Phillips, Catholic Herald)
"the book forces you to confront the most uncomfortable of subjects. This is a good thing." (Alex Dean, Prospect)
"O'Mahony's clear-eyed analysis is important, poignant, and immensely humane." (Publishers' Weekly)
"His book is considered and serious, as the subject demands, seasoned with rich anecdotes and appropriate humour, and above all uplifting." (Peter Hegarty, The Irish Catholic).
"This engaging book takes us on a personal journey with a doctor reflecting on the meaning of death" (Levina Smook, the Psychologist)
"This is a book filled with profound insights" (John Meredith, Touchstone)
"a forceful indictment of the entire Western culture surrounding death" (Rachel Dolan, Health Matters)
"a valuable and thoughtful treatment" (Bernadette McGrath, Library Journal)
"this erudite but readable book . . ." (Claire Stark Toller, Triple Helix)